To many police officers, a degree of hostility from suspects and others is par for the course while on the job. However, recently the degree of animosity toward police has grown and collectively many officers are now facing a rising tide of threats.  Some are even going as far as targeting off-duty officers in their personal lives.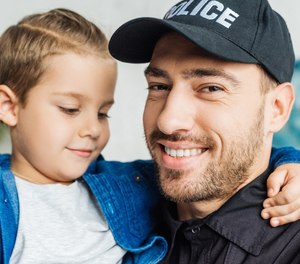 These threats are not just physical. Due to the availability of personal information being used online and the increase in web traffic due to the pandemic, many cybercriminals and scammers are also targeting police officers online. Unfortunately, there may not be a way for officers to make these threats disappear, but there are many steps you can take to reduce danger for yourself and the people you love. Here are seven ways you can protect yourself and your family from physical, psychological, and financial threats – in person and online.
1. Secure your premises. It should go without saying, but personal safety at home starts with securing your property and your possessions. The best way to make sure you and your family stay safe from threats at home is to invest in a monitored home security system. A security system will give you 24/7 access to who is entering (or trying to enter) your home. To further protect your belongings from uninvited guests, you should avoid giving out your home address, properly secure your home – doors, windows, locks, etc. – and invest in scheduled personal property coverage. 
2. Keep a low profile at home and online.  Avoid any kind of threat to your home or family by maintaining a low profile.
At home: Steer clear of displaying overt symbols at your home that could indicate a police officer lives there. Avoid driving marked cars home, or leaving them parked in your driveway, change into civilian clothes when off duty, and enlist trustworthy neighbors to be on the lookout for suspicious cars or pedestrians.
Online: Do not put your department name or badge number anywhere online. Be cautious of posting any photos of yourself in your uniform on any personal profiles, and never give out any personal information to anyone on the web.
3. Communicate with your family. As much as you may try to shield your spouse and children from fear and worry, it's important to make and share a safety plan with them. Sit down together and discuss what to do (or not do) if they feel unsafe or if they encounter a threat online.
You can also take other measures to ensure your family's safety, like location tracking and phone monitoring apps.
4. Use social media wisely. The internet has made it easy for hostile individuals to find personal information about police officers and their families, a process known as doxxing. The data they dig up can be used to harass officers and their family members online and in person.
The best way to deal with doxxing is to be smart about what you share on social media. Avoid posting in uniform, never share personal information, and tell your family to be cautious about what they are sharing as well.
Should harassment occur through any social media platform, take immediate action and report it to these outlets, as well as to your own commanders.
5. Avoid identity theft. Identity theft is an increasingly serious threat to American consumers.
Identity theft happens when your personal identifiable information (PII) becomes compromised. Identify theft can happen to anyone at any age and can completely ruin your credit. ID theft scams and fraudulent unemployment claim scams are on the rise amidst the pandemic. To avoid identity theft here's what you can do:
Never share Social Security numbers, PINs, and other numeric data linked to your identity and logins.
Do not put credit card numbers in emails.
Avoid opening emails from people you don't know, and never click on links or attachments unless you be can be sure that they are legitimate
Use complex and unique passwords for each of your online accounts that include a mix of letters, numbers, and typographic symbols in upper and lower case.

Do not use birthdays, anniversaries, or pet names.

Stay away from online quizzes asking for facts about your personal life events and preferences.
California Casualty offers all policyholders access to free ID theft resolution services from CyberScout. In the event you or a family member has their identity stolen and used for fraudulent transactions, the service can help limit damage, gather evidence against fraudsters, and help restore damaged credit.
6. Protect Your Finances. While monitoring your credit for any changes or signs of identity theft, you should also be keeping a close eye on all of your financial accounts for suspicious activity. You should check balances on all of your accounts as often as possible for any changes. And if your provider offers suspicious activity alerts, sign up! But be aware – some telephone scammers pose as credit card companies that will call you to try and get your account information. Never give anyone your personal information or credit card number over the phone, even if they claim they are with your provider. Instead, hang up and check for yourself.
7. Plan for your future. Having an insurance policy in place from a trusted provider can help mitigate the devastating financial challenges families can face after an auto accident, burglary, natural disaster, or more. California Casualty has been protecting police officers across the nation since 1969 and offers discounted rates and exclusive benefits including off-duty firearm coverage and the Fallen Hero benefit.
It is an unfortunate reality that the people sworn to protect society are facing these threats themselves, but police officers are no strangers to danger. As always, stay safe and be prepared.
Looking to protect your gear?
To help police officers secure their gear and their peace of mind, California Casualty is sponsoring the Safe and Secure Giveaway. This year, three first responders will win a brand-new Liberty Safe filled with 5.11 gear. Enter here for your chance to win.
Sponsored by California Casualty

Written By Police1 BrandFocus Staff
Latest posts by California Casualty
(see all)